When people go on a camping trip, more often than not they take their best friend with them. Since dogs are man's best friends, it's only normal for people to take their beloved pets with them. Usually, this doesn't pose any problems since it's very easy to accommodate a dog inside a ground-based tent. But things get a little complicated when it comes to rooftop tents.
Since people need to climb into the rooftop tents, they face difficulty getting their dogs into them. But there are quite a few efficient ways to get the canines into these tents such as carrying them, building a ramp, etc.
So, let's not waste any more time and see how to get a dog in a rooftop tent.
4 Ways to Get a Dog Into a Roof Top Tent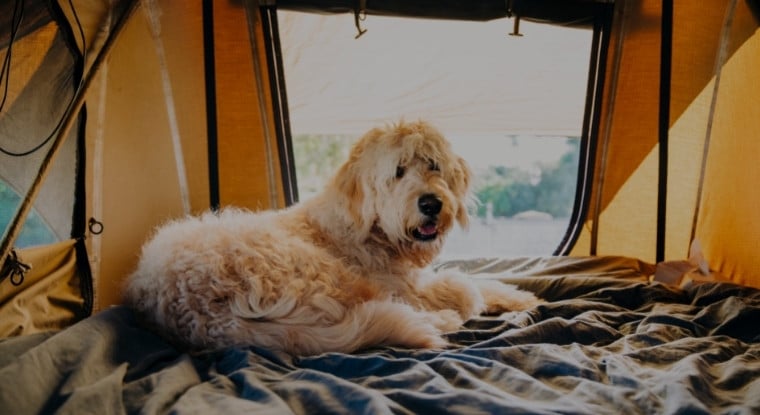 When you enjoy the wilderness, the good boys in your home should also be able to enjoy it with you. It'll be quite selfish if you hog all the fun yourself, won't it? But it's not always possible to take them with you, especially if you have a rooftop tent, or at least you thought that was the case. But I'm here to help you and show you how to get your dog in a rooftop tent.
1. Carrying the Dog in Your Arms
The easiest way to get your dog into a rooftop tent is to just them yourself. If you think the dogs are light enough for you to lift them onto the top of your car, you can just hold them in your arms and climb up the ladder.
This method, however, has a couple of drawbacks. First, it won't work if you have big dogs like golden retrievers or even larger ones. Second, since at least one of your arms will be occupied, climbing a ladder, no matter how small it may be, becomes a very dangerous job. If you unfortunately slip or lose balance while carrying your dog in your arms, it may prove to be disastrous and in some cases fatal.
2. Handing Them Over
Although it doesn't seem like a good way to get a dog inside a rooftop tent, it is indeed a well-used method of doing so. Although for this method to be successful, you will need another person with you on your trip. Just climb halfway to the ladder and hand your pup over to the person at the roof of the car. But like the previous method, this will only work with smaller dogs. If you have big dogs, you need to think of some other ways to get them on top of your car.
So, how to get a big dog in a rooftop tent? Simple, follow any of the following methods.
3. Building A Ramp
If you aren't strong or confident enough to carry a big dog up a ladder, don't worry as you can simply build a ramp. Building a ramp doesn't even need a lot of material either. You can simply cover your ladder with something a bit durable and you will have yourself a makeshift ramp. Then all you need to do is to incline the ladder at an angle so that it's easy for your dog to go up and down. Yes, dogs can climb ladders if the need arises, but why make life tough for them?
Nowadays you can find an attachment called the Doggo RTT Ramp, which is designed for this particular situation. All you need to do is to attach it to your ladder and make the angle of the ladder suitable for your canine friend to go up.
4. Training the Dogs to Climb A Ladder
If you don't have the time to build a ramp or simply don't have the means to do it, then you can invest a little time training your dog or dogs to climb up a ladder. Although dogs can climb ladders if necessary, they don't always feel the necessity to do so on a camping trip.
So, train them climbing up and down a ladder for them to be able to be with you while camping. I am not expert enough to tell you how you can train your dog to do so, but I'm sure there is plenty of material online from which you can learn.
---
Can Dogs Sleep In Rooftop Tents?
The short answer to this question is yes, they can sleep in your rooftop tent. But this will depend on a couple of things, First, the number of people in the tent. If you have more than three people inside your tent, it's going to be too cramped once you bring your dog into it. Second, the temperature in the tent.
If you feel like it's getting warmer inside the tent, then it's certainly too warm for the dog to be in there. So, although your dogs can easily sleep in rooftop tents, you need to keep an eye out for these couple of things. Considering all these, the best place for your dog to sleep at night is the back of your car. That's how you can all sleep easily and comfortably.
---
Final Words
A camping trip is most enjoyable when you can let go of any stress and be free by yourself or your close ones. So bringing your dog along with you is a great idea since on one hand, you don't have to worry about their well-being while on the other hand, they also can be a part of your trip. So if you know how to get a dog in a rooftop tent, both you and your friend can enjoy the beautiful views together.
---