Installing a roof top tent in Jeep Wrangler can improve the fun of your trip.
But you cannot install the tent directly in the Wrangler. A rack is must to have for installing the tent.
A random rack might not work well. You may damage the car instead. Make sure to get the best roof rack for roof top tent Jeep Wrangler.
Once you install the right rack, no one can prevent you from enjoying the fun of a roof top tent. You can also use the rack to carry bikes or other staff. It also enables you to store more things that you cannot inside the car.
Can You Put a Roof Top Tent on A Jeep Wrangler?
Yes, you can put a roof top tent on a Jeep Wrangler as long as you have the rack installed. Jeep Wrangler does not allow you to install a tent directly on the roof. Make sure you pick a rack with good quality and capacity. Then you can put a roof top tent on the Jeep Wrangler.
Top 5 Best Roof Rack for Roof Top Tent Jeep Wrangler
Finding the best roof rack for Jeep Wrangler may seem overwhelming due to so many options. I have come up with some suggestions and their features, pros, and cons to make your decision-making easier.
1. Hooke Road Roof Rack Cross Bars
Hooke Road rack is a perfect example of the best roof rack for Jeep Wrangler. With its noise-reduction strips, you will experience noise-free driving. It also ensures higher mileage.
Its robust aluminum alloy construction makes it lightweight and durable. You will also get abs plastic laminating to protect the rack from rust and water damage.
The load capacity of these racks is 88 lbs. You can use them for a light off-road experience or carry different accessories such as bikes, luggage, and others. It also enables you to install a roof top tent comfortably.
Installation is simple, thanks to their factory gutter mounts. You can do it within a few minutes.
Designed with a smooth finish, it will improve the look of your Jeep. If you have a 4 door Jeep Wrangler, this one can be an excellent choice.
Pros:
Noise and wind reduction for higher mileage
Easy to install
Smooth finish to improve the aesthetic look of your car
High-quality aluminum and plastic construction for durability and longevity
A decent load capacity
Cons:
Not suitable for carrying heavyweight.
2. Hooke Road Wrangler Roof Rack 2 Crossbars
This 2 set Crossbar is another good option for Jeep Wrangler 2007-2022 4 Door.
It will increase your storage capacity thanks to its 88 lbs. load capacity. You can carry luggage or other staff smoothly in light off-road.
As these racks are made of high-quality aluminum alloy, they are lightweight yet durable. You can expect a decent lifespan from it.
High-quality ABS plastic coverage is painted over them to prevent rusting and other water damage. This makes the racks suitable for all-weather use.
Noise is not a big problem here. Its noise-reducing strips minimize noise and wind to ensure higher mileage and fast driving.
You can install these 2 crossbars easily since they come with 4 necessary mounting brackets. Installing their factory hardtops rain gutter mounts does not take much time. You will get the features expected from the best Jeep Wrangler roof rack for tents in them.
Pros:
Higher load capacity to carry your staff
Suitable for all weather for plastic cover
High-quality aluminum construction for added durability
Minimized noise and wind for fast driving and high mileage
Easy, simple, and quick installation
Cons:
Not suitable for heavy off-road use.
3. Complete Roof Rack Kit Cross Bars
When you want extra storage with style for 2 Door Jeep Wrangler, Complete Roof Rack Kit Cross Bars are the key. A smooth black finish takes your vehicle's look to the next level.
Its H shape design provides ample space with exceptional bar strength. You can try a roof top tent in it easily. The crossbars are made of anodized aluminum, whereas the legs are made of glass-reinforced nylon to ensure a longer life span and strength.
Powder coating is also there over the racks to prevent rusting and water damage. You will also get built-in hardware for theft deterrence. No one can easily take it from you when you are not around. It requires a special tool to loosen.
Installation is simple since it comes with everything needed for easy installation. You can easily do the clamp-on installation to your existing rain gutters, clamps, and straps.
The noise will not be a big problem because of its rubberized vortex strips and aerodynamic design. It also provides cushioning and slip-resistance to install a roof top tent smoothly.
Pros:
Extremely durable construction for roof top tent installation
Powder coating to use for all-weather
Built-in theft protection to prevent stealing
Easy and straightforward installation process
Black finish to make your car stylish
Cons:
You may hear a slight noise from inside the car.
4. EAG 2/4 Door Roof Rack Cargo Basket
2 door or 4 door – it does not matter. EAG 2/4 Door Roof Rack Cargo Basket can work with all Wranglers from 2007 to 2018. With its 150 lbs. load capacity, you can easily install a roof top tent on it.
The perfect blend of form and function smoothly channels the wind away. It reduces noise while ensuring higher mileage.
As this rack is made of welded 1" round steel tubing, it offers superior strength and durability. It also features a textured black powder coat finish for corrosion resistance.
Installing the rack is child play. You will get all the roof rack pieces with related mounting hardware to install.
No drilling or modification is required as well. That means you can install the rack without damaging your car.
Pros:
Higher load capacity to store or carry something
Blending design to reduce wind pressure and noise
Durable aluminum construction for durability
Powder coating to protect against rust and water damage
Easy installation without any drilling and modification
Cons:
No locking mechanism for thieves' protection.
5. Snailfly Cross Bars Roof Rail Racks
These Racks come with a high-quality aluminum alloy construction. It ensures strength and longevity.
With its 165lbs maximum loading capacity, you can easily install a roof top tent. Installation is not that tough, thanks to its user-friendly design and 4 clamps and fitting hardware. You need no drilling or cutting to install the racks.
The crossbars feature 2 black powder-coat finishes. It prevents rusting and any kind of water damage, making it perfect for all weather.
Wind noise?
Well, this rack is designed with a teardrop shape. That means it will minimize noise while driving fast.
Pros:
Solid and lightweight aluminum alloy for durability
Teardrop shape design to ensure the quiet driving experience
Easy installation and removal
Higher load capacity for roof top tent
Black powder finish for better look and weather protection
Cons:
The instruction manual could be better.
What Do I Need to Put a Roof Top Tent on My Jeep?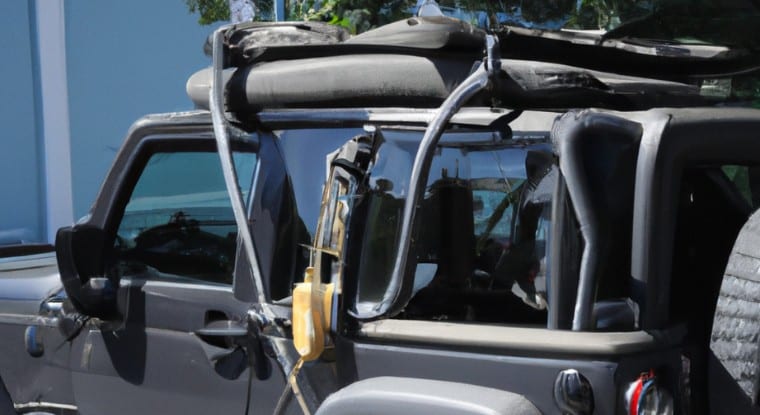 If you're looking to add a roof top tent to your Jeep, you'll need a few things.
A tent itself. Make sure to get one that's the right size for your Jeep.
Some rope to secure the tent.
Stakes and a hammer to drive them in.
You will want to add a tarp to the roof of your Jeep to help protect the tent from the elements.
Bolt and other hardware to install.
Jeep Wrangler Roof Rack Install
What Kind of Roof Rack Is Needed for A Roof Tent?
Not all racks are suitable to install roof tents. You need to follow some factors before picking. Here are the factors for you.
Durable Construction
The construction should be durable enough to handle the pressure of a tent. It has to be lightweight at the same time to prevent overweight and damage to the car.
Aluminum construction with a plastic cover works best in that case. They are durable, lightweight, and offer protection against the weather.
Higher Load Capacity
The tent will come with a heavyweight, and you will add some weight to the roof of your Wrangler. Ensure the rack offers a decent load capacity to handle the tent and your weight.
Strong Legs
Rack legs carry the weight of the tent. Try to get racks with durable and strong legs so they can handle the pressure. Aluminum construction with powder coating can work well.
Large Area Coverage
Know the size of your car roof and make sure the racks cover the area adequately. You may end up installing the wrong racks to install the tent.
Wind And Noise Reduction
You will have the racks installed on the car even when the tent is not there. Racks tend to make noise due to wind. It also reduces the mileage. Make sure the racks come with an aerodynamic design to minimize wind noise.
Locking Mechanism
Your racks may get stolen when you are not nearby. Make sure the racks come with a locking mechanism to prevent stealing.
Frequently Asked Questions
Here are some of the commonly asked questions for you. Check them out.
Can roof racks hold a roof top tent?
Ans. Yes, roof racks can hold a roof top tent as long as they offer enough load capacity. Make sure your racks offer a load capacity to handle the tent's weight and yours.
How do you put a kayak on a Jeep Wrangler?
Ans. Assuming that you have already installed racks on your Jeep Wrangler. Now,
Place the kayak upside down on your roof rack; make sure the cockpit faces upward.
Center the kayak on the roof rack, and ensure that the straps are evenly distributed on both sides.
Fasten the straps around the kayak, and tighten them until the kayak is securely in place.
Conclusion
Roof top tents are fun. But when you want to install it on your Jeep Wrangler, you must need the racks. Wrangler does not offer the facility to install a tent over it.
Get the best roof rack for roof top tent Jeep Wrangler. It will give you enough strength to handle the tent's weight and yours.
Make sure the rack construction is durable enough. Aluminum will work best. Know the measurement and door numbers. Try to have one with a wind and noise reduction facility. Powder coating will work fine. Once you get the right racks, you can enjoy the fun of roof top tenting with your Jeep Wrangler.